Gymnastics
Gymnastic events require incredible flexibility, balance, and control, and Swiss Timing delivers timing, scoring, and results services to the sport's full range of disciplines including artistic, rhythmic, trampoline, acrobatic, and aerobic gymnastics.
Swiss Timing and Gymnastics
Artistic gymnastics
Artistic gymnastics has established itself as one of the world's most popular sports. In fact, it was the second-most watched event at the London 2012 Olympic Games. Like all gymnastic disciplines, it has a complex set of scoring and display regulations and because these rules change quickly, the scoring algorithms that support them are also subject to frequent change. For more than 30 years, Swiss Timing has worked closely with the International Gymnastics Federation (FIG) to provide scoring and control services that meet the needs of this demanding, entertaining sport.
Rhythmic gymnastics
The roots of rhythmic gymnastics can be traced back centuries but the sport as it is practiced today first started to gain popularity in the 20th century. In this gymnastic discipline, athletes perform to music and work with different apparatus. They are judged on difficulty and execution. Swiss Timing has worked with the International Gymnastics Federation (FIG) since 1987 and provides scoring and judging systems that are regularly updated following the ever-evolving rules of rhythmic gymnastics.
Aerobic gymnastics
Aerobic exercise has been a popular way for the general public to stay fit since the 1980s but it has also become a top-level competitive sport. The first Official Aerobic Gymnastic World Championships were held in 1995 and the discipline's popularity has grown ever since. Aerobic gymnasts demonstrate dynamic moves, strength, flexibility, coordination, and musicality in routines that last up to one minute and 30 seconds. Swiss Timing delivers scoring systems that allow judges' points to be correctly and quickly recorded in routines that include 10 elements in the categories of dynamic strength, static strength, jumps, and flexibility/balance.
Trampoline gymnastics
Many of us have experienced the exhilaration of jumping on a trampoline and propelling our bodies high into the air, maybe even risking a flip or improvised trick. The fact is that trampoline is a relatively new invention – the first one appeared in 1936. Its popularity soared (appropriately) and in 1964 the first world trampoline championships took place. The International Trampoline Federation merged with the International Gymnastics Federation in 1998, and two years later trampoline became part of the Olympic Games as a FIG discipline. Trampoline gymnasts in competition are judged on three main factors: execution, difficulty, and time of flight. Swiss Timing's timing and scoring system allows the quick recording of judges' scores on execution and difficulty, and electronically measures the time of flight.
Acrobatic gymnastics
Acrobatic gymnastics has a millennia-old history but the sports acrobatics discipline has only been a part of the International Gymnastics Federation since 1998. Its first World Championships in the FIG era took place in Ghent, Belgium in 1999. Competitors are scored for difficulty, execution,and artistry (including choreography, musicality, expression, and partnership) by panels of specialist judges. Swiss Timing's dedicated primary and secondary scoring systems ensure that the judges' results are quickly and accurately recorded and distributed to the scoreboards and the commentator information system (CIS).
Scope of Swiss Timing services
Swiss Timing provides a full range of services and technologies that are perfectly adapted to the requirements of each of the gymnastics disciplines. These are regularly updated in cooperation with and on behalf of the International Gymnastics Federation (FIG), the governing body of this remarkable sport.
For judgments on the field of play:
Full OVR system including start list, result list and judge assignments
Judges' analysis for the FIG
Live XML feed to the FIG for the website
Information for the FIG's YouTube channel
Results book for the FIG, delegation, media
---
Services for Artistic Gymnastic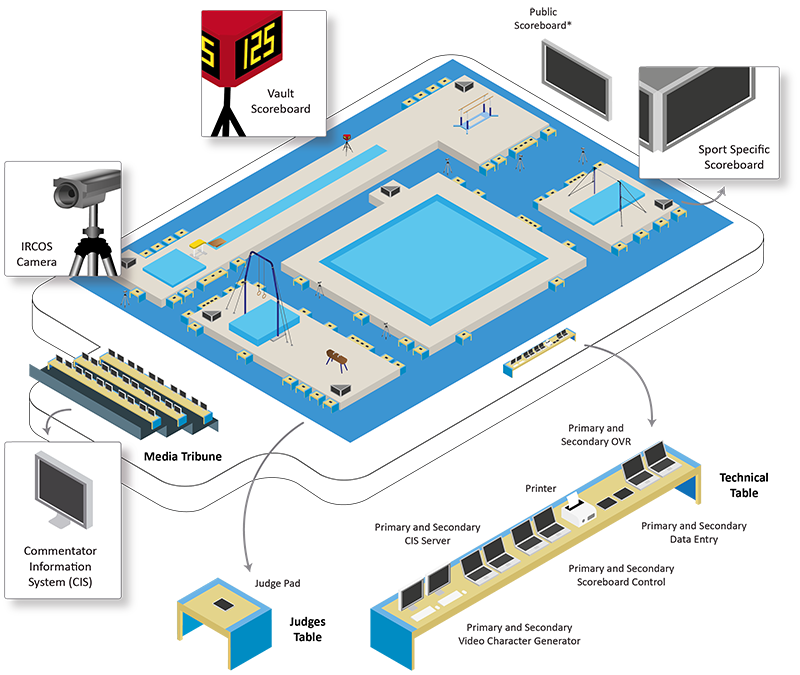 Services for Rythmic Gymnastic