Equestrian
Equestrian events are remarkable sporting spectacles: they are defined in equal part by strength, speed, and endurance, and present a number of interesting timing and scoring challenges. At the heart of each performance is the incredible relationship between horse and rider as they work together to achieve competitive perfection.
Swiss Timing and Equestrian Sports
Swiss Timing, in cooperation with its sister brand Longines, provides timekeeping and scoring services at the world's leading equestrian events, including Show Jumping and Dressage.
Show Jumping
The excitement of Show Jumping has generated an enormous fan base over the years. It is truly thrilling to watch the extraordinary horses jump a series of obstacles with heights of up to 1.6 metres and spreads of up to two metres.

For these competitions, Swiss Timing works closely with the International Equestrian Federation (FEI) to ensure that time is recorded precisely and that each penalty is noted in the timing and scoring system. Penalties are assessed when a horse knocks down a bar, when its feet touch water, or if it refuses to execute a jump.

In the case of the destruction of an obstacle the time is stopped, and when the obstacle has been rebuilt the time is started again. Both a time and a point penalty are assessed.

When a bar is knocked down points are penalized; when the competing horse and rider use more time than is allowed for the course a time penalty converted into points is added.

The Swiss Timing team and the judges are together in the same room, which is located to give a clear view of the entire competition arena so that any scoring issues can be resolved immediately.
Dressage
Because of the elegance both horse and rider bring to Dressage, it has been described as the ballet of equestrian events. In a competition, a horse's training is demonstrated through the performance of "tests" – series of movements ridden within a standard arena. Each of these movements is evaluated on the basis of an objective standard. A team of five judges gives marks on the performance and these are collected and processed in the scoring system provided by Swiss Timing.

The judges' scoring consoles are located in cabins positioned strategically around the arena. Each judge is electronically connected to the timing room, which is masterfully positioned to allow a clear view of the competition arena.
Scope of Swiss Timing services
The Swiss Timing team works closely with the International Equestrian Federation, judges, and local organizers to ensure that all services requested are provided. Below is a list of the services typically delivered at equestrian events. Click on the links to find out more about them.
---
Services for Equestrian - Jumping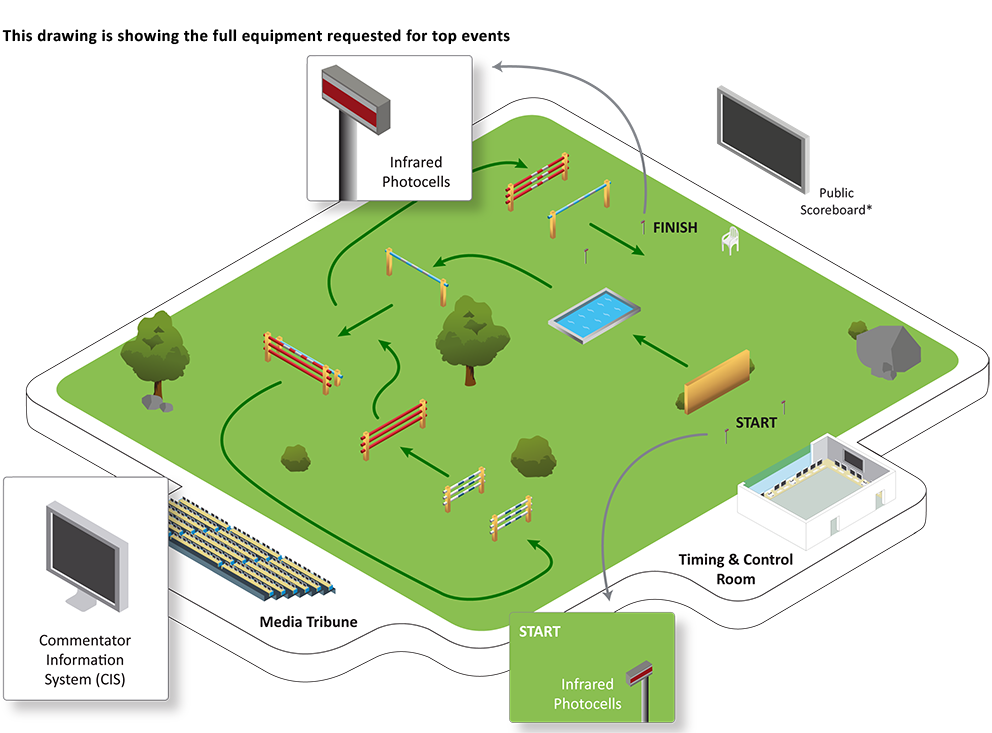 Services for Equestrian - Dressage